In the event of snow or ice, we close due to unsafe road conditions for travel..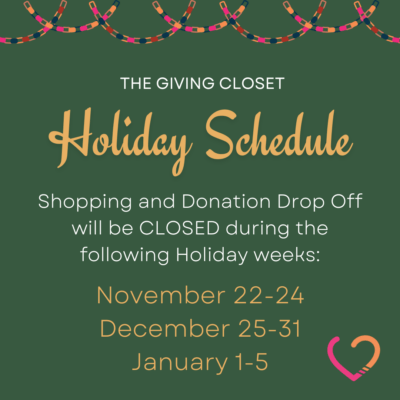 Services for the Unhoused and those in Transitional Housing
Services are offered every Thursday from 2:30-3:30 pm, no appointment needed. A sack lunch is offered along with clothing services.
Services for Permanently Housed Individuals and Families
All shopping for housed families and individuals is offered by APPOINTMENT ONLY. You can request an appointment by sending your first and last name in an email to Jen@givingcloset.org
All email requests will be returned Tuesday through Thursday during office hours. If you do not have access to email please call 360-993-4800 and your call will be returned on a Wednesday or Thursday.
Thank you for being patient as we continue to adapt so that we can provide you with services and keep you, our volunteers, and our staff safe and healthy!
Shopping is CLOSED for the following 2023 Holidays
  November 22 &23

  December 27 & 28

  January 3 & 4 2024
We look forward to seeing you and are making every effort to keep our guests, volunteers, and staff safe. Thank you for following these guidelines to help us keep our doors open and our services available to you!